Indiana offers some of the most versatile paths of training to become a heavy equipment operator in all of the United States. In addition to local union training in the state, there are also college-level courses available as well as industry-specific training schools.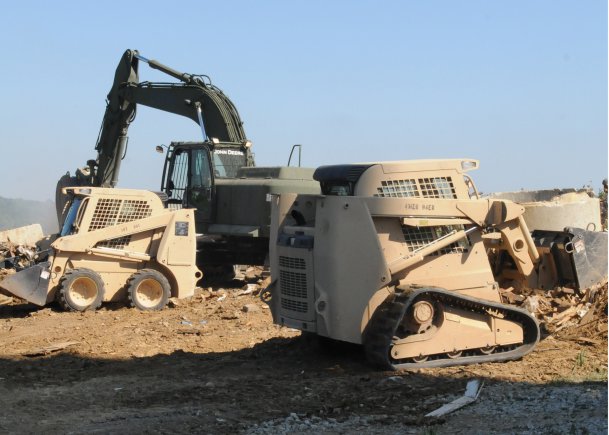 These programs were developed to accommodate the 6.2% rise in employment for operating engineers and other construction equipment operators in Indiana.
Heavy equipment unions
Local 103 Heavy Equipment Operator Training School
4277 E CR 67 Anderson, Indiana
(765) 378-0013
[email protected]
There are roughly 150 apprentices going through training offered by the Local 103 at any given time throughout Indiana. The Local 103 is represented in 33 counties throughout the state, and their aim through employment training is to provide the safest, most highly skilled, and most proficient operating engineer workforce as possible.
Classes available at the heavy equipment training school in Anderson include Hazmat, OSHA, forklift, pipeline, trench box safety, mechanics, welding, grade stakes, asphalt, and crane.
Universities and colleges that offer heavy equipment operator training
Vincennes University
1002 N. First Street Vincennes, IN 47591
1-812-888-4309
Vincennes University is a workforce development facility that provides heavy equipment training for those who want an expanded role in the construction industry. Training is done in a controlled laboratory environment so that individuals learn the basics of construction machinery operation in the safest and most convenient manner.
Students learn underground and surface training via a large array of equipment simulators. In addition to these labs, computer-based training is used for comprehension of inspection, maintenance, and safety regulations.
Heavy equipment operator training courses
Associated Builders Contractors 
2701 Industrial Parkway Elkhart, IN 46516 – 800-428-6215
5001 N. Shadeland Ave.Indianapolis, IN 46226 – (317) 596-4950 or (317) 596-4957
722 South Street Dayton, Indiana 47941 – (877) 222-0520
4615 Ellenwood Dr. Ft. Wayne, IN 46806 – (800) 428-6215 or (260) 441-9897
6930 South S.R. 67 Muncie, IN 47302 – (765) 288-0970 p or (765) 288-0988
The Associated Builders and Contractors of Indiana and Kentucky provide a wide array of training for those looking to enter various areas of the construction industry. One such program is their heavy equipment operator curriculum that is designed to educate not only on construction and building, but also infrastructures such as roads, bridges, and ports.ABC has training facilities located throughout Indiana and into bordering parts of Kentucky. The curriculum is developed in conjunction with the NCCER and features three levels of modules for each major piece of heavy equipment.