There are a variety of options for heavy equipment training in Alberta, Canada. As with any program, before embarking on a training program, it is a good idea to evaluate your familiarity with equipment, mechanic skills, operator safety, and industries that hire operators. Having an understanding of these facets of the role – will help you determine the best school and training program for you.
In Alberta, there are a number of options for training, including:
Apprenticeship Programs
On-the-Job Training
Private Training Courses
University Courses
Training Offered by Private Training Programs
High Velocity Training Centre
High Velocity Equipment Training College
#201 – 5061 50th Street
Camrose, Alberta, Canada
1-866-963-IRON
[email protected]
High Velocity Training is located in Camrose Alberta, High Velocity Equipment provides students with a 12 week training program that includes focused hands on course work in Bulldozer, Excavator, Front End (Wheel) Loader, Motor Grader, and Articulated Rock Truck. They offer student the ability to spend time in both the classroom learning theory as well as in the seats of heavy machines to receive simulated job-site training.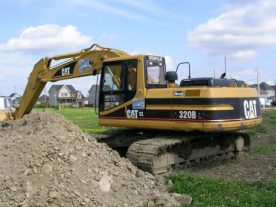 Interior Heavy Equipment Operator School Inc.
36040 Range Road 284A
Innisfail, Alberta
T4G 1T8
1-866-399-3853
[email protected]
In operation since 2005, IHE offers a variety of courses and course lengths ranging in length from 3- 12 weeks across a number of different equipment types. Its 12-week "Earth Mover Program" includes 285 hours of machine time on Excavators, Grader, Dozer, Loader, ART, and RT Backhoe machines, and is supplemented by over 450 hours of classroom time. IHE's shortest course runs 3 weeks, and is approx 150 total hours. Averaging a 70-80% job placement, IHE specializes in placement in construction, forestry, civil, mining, oil and gas industries.
Training Offered by Union Training Programs
International Union of Operating Engineers Local No. 955
17603 – 114 Avenue
Edmonton, AB T5S 2R9
(780) 483-0955
[email protected]
Members in good standing of Local 955 are eligible for training as long as they work for an employer that contributes into the Training Fund. The program is open to union members with 350 working hours within 12 months prior to the course completion date.
The union offers a huge variety of courses in a huge variety of equipment and disciplines including cranes, ski steers, excavators, bulldozers, Yuke Trucks, graders, rigging, forklift, front end loader, pipeline construction, and a whole lot more.
Training Offered by Universities
Portage College
Lac La birch Campus
Box 417
9531-94 Ave
Lac La Biche, AB
[email protected]
1-866-623-5551
or
Cold Lake Campus
Cold Lake Energy Centre
101-7825 51 Street
Cold Lake, AB
780-639-0030
With two campus options, this comprehensive course offers a great variety of hands on training and classroom time, for a well rounded learning experience. Equipment on site includes excavators, dozers, graders and more.
With it's robust course list, you can learn about a broad variety of topics, including soil composition,service and maintenance, and surveying. You can also earn your H2S Alive, Construction Safety (CSTS , Roadbuilders Safety (RSTS) and first aid certifications along with your HEO certificate.
Heavy Machine Operators Must Have the Following:
Balance
Able to work at heights
Good judgement of distance
Past experience running tractors, military is a benefit.
Good health and physical condition
Ability to work in harsh weather conditions
Great eye hand foot coordination
Problem solver
Mechanically minded
Not sure if you will be based in Alberta? Be sure to also check out our article about national training programs throughout Canada.